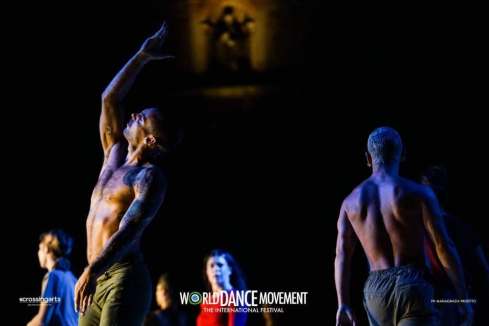 From World Dance Movement to Sidi Larbi Cherkaoui's Eastman Company
Enjoy this interview with WDM dancer Verdiano Cassano, who was chosen by world-renowned choreographer Sidi Larbu Cherkaoui to perform in one his company's performances in Italy this past September.
WDM: You recently had the opportunity to perform with Sidi Larbi Cherkaoui's Eastman company at Teatro Regio in Torino. How did you connect with him and how was the experience?
Verdiano: Last September I performed in the evocative setting of the Teatro Regio of Turin in "Icon", a 2016 production choreographed by Sidi Larbi Cherkaoui. It was a very emotional professional experience, an opportunity for personal and artistic growth but above all a unique honor.
I was lucky to meet Sidi Larbi during the third week of WDM Italy last July, and I am obviously grateful to Michèle Assaf and WDM who as, every year, through this international festival, they offer fantastic opportunities to the dancers who participate.
Not even a month later, Sidi Larbi contacted me asking if I was available to replace one of his Eastman's dancers, the company (based in Antwerp, Belgium) that he founded and directs. Without thinking twice, in the grip of a thousand emotions, with a last-minute suitcase and perhaps a bit of unconsciousness, I took a flight to Brussels and the next day I was already in the rehearsal room.
Never having experienced an experience like this before, I learned what it means to play the role of a dancer in an already existing show: a real race against time. At the same time, the possibility of sharing the rehearsal room first and the stage later, with such talented professional dancers, was an extremely positive and stimulating experience.
Being on stage on that occasion, in that theater, together with those dancers, dancing a piece by a contemporary and generous artist like Sidi Larbi, was something indescribable and indelible!
WATCH AN EXTRACT FROM "ICON" HERE.
WDM: Tell us more about his class at WDM Italy this past summer.
Verdiano: This year Sidi Larbi taught at WDM for the first time, during the third week: taking part in his workshop was an honor shared by all the dancers participating in the event, a stimulating path that led to the staging of a performance of great impact.
During his lessons the focus was immediately placed on learning choreographic sequences, expression of his style, his repertoire and his artistic conception. Even if it was our first experience with his work, through a detailed and in-depth study, Sidi Larbi was able to guide us in the creation of a piece of evocative and engaging contemporary dance, not only for the performers, but also for the audience.